Did you get #inspired at the Home Show and you're now ready for a big change in your kitchen?
We have 10 of the hottest trends to take you from inspiration to completion!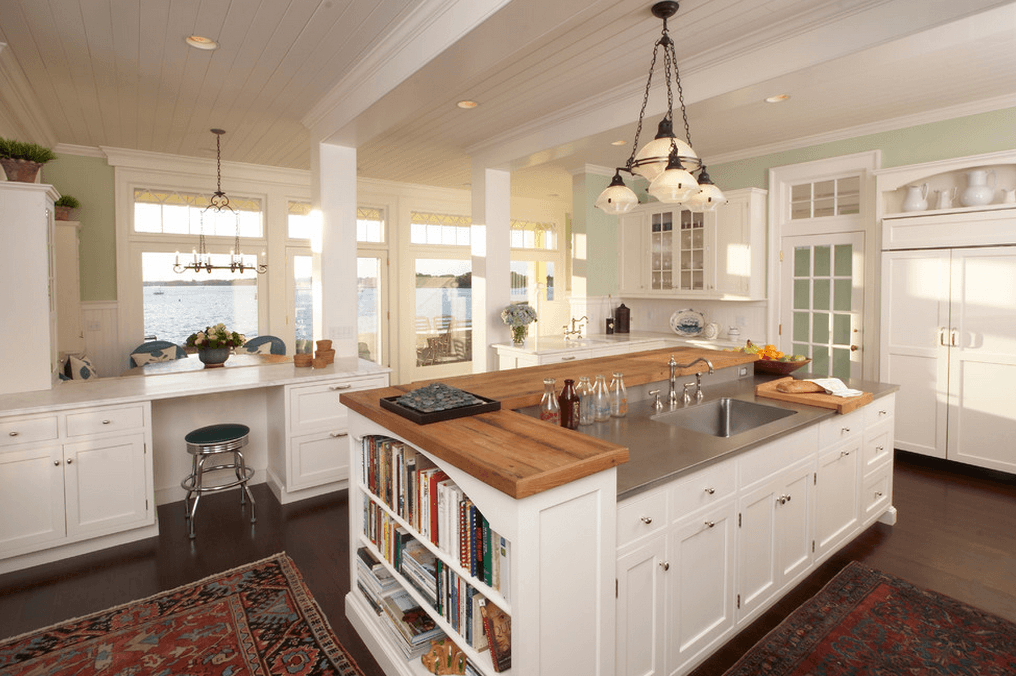 1. Multipurpose islands
'Layouts are usually dictated by the space available, but islands continue to dominate with many larger kitchens now opting for two islands,' say the experts at Kitchens International. 'Most will have breakfast bar seating or banqueting seating attached to the island so that dining is incorporated into the kitchen area.'
Trainor from LochAnna Kitchens, adds: 'An island or breakfast bar can also work as both a storage area and a place for dining. But less often they are used for actual food preparation. Utilise your island further by installing an appliance – the addition of a small sink or hob in your island will mean everyone can get involved with food prep!'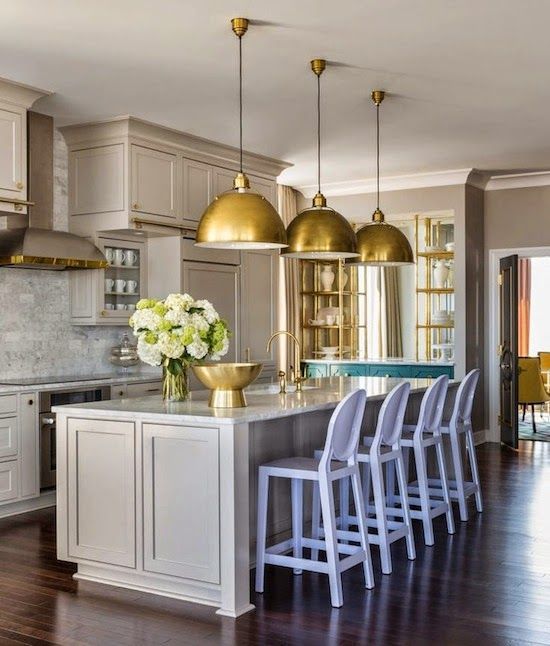 2. Go boho with warmth and gold accents
'Golds have been on trend for a while now but the move to combining them with browns and organic materials is going to be big for 2018,' predicts Papilio. 'Combining the use of neutrals, golds and organic textures makes for a warm environment with a slight seventies feel, hitting the mark in terms of both style and substance. The boho look is not only easily adaptable with other colours but also comes hand in hand with good quality and timeless design – something which a kitchen needs to present.'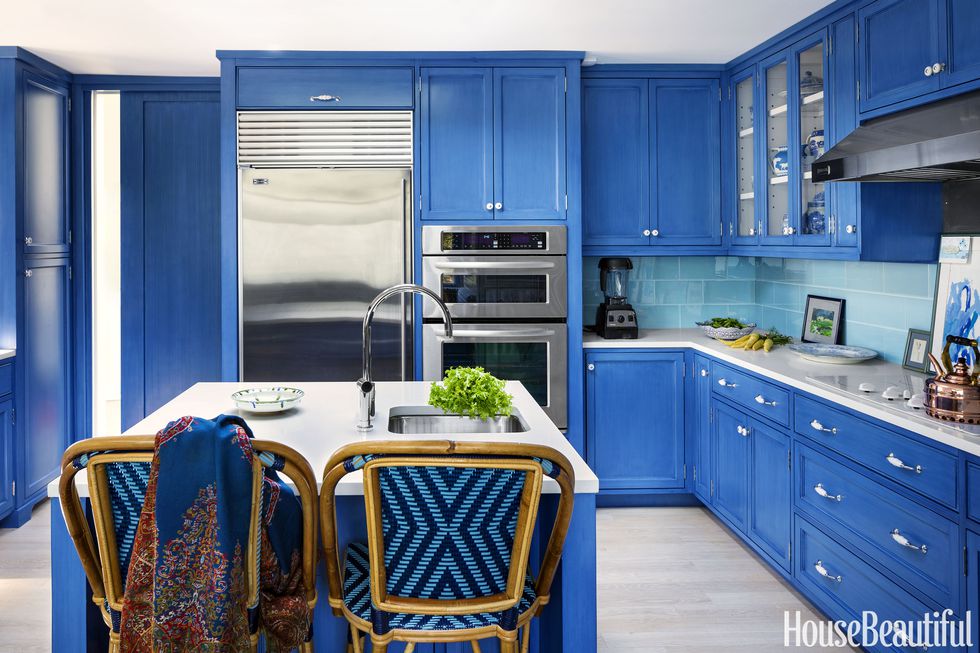 3. Blues, blues everywhere
From cobalt blue to powder blue and teal, blue is the colour of the moment when it comes to kitchens. Darker shades of this versatile hue will prove to be the most popular. 'Undoubtedly the biggest colour trend the industry has seen this year is the desire to have blue in the kitchen,' reveals BA Components. 'This bold and dramatic move is for those who are brave and want to make a statement within the home.'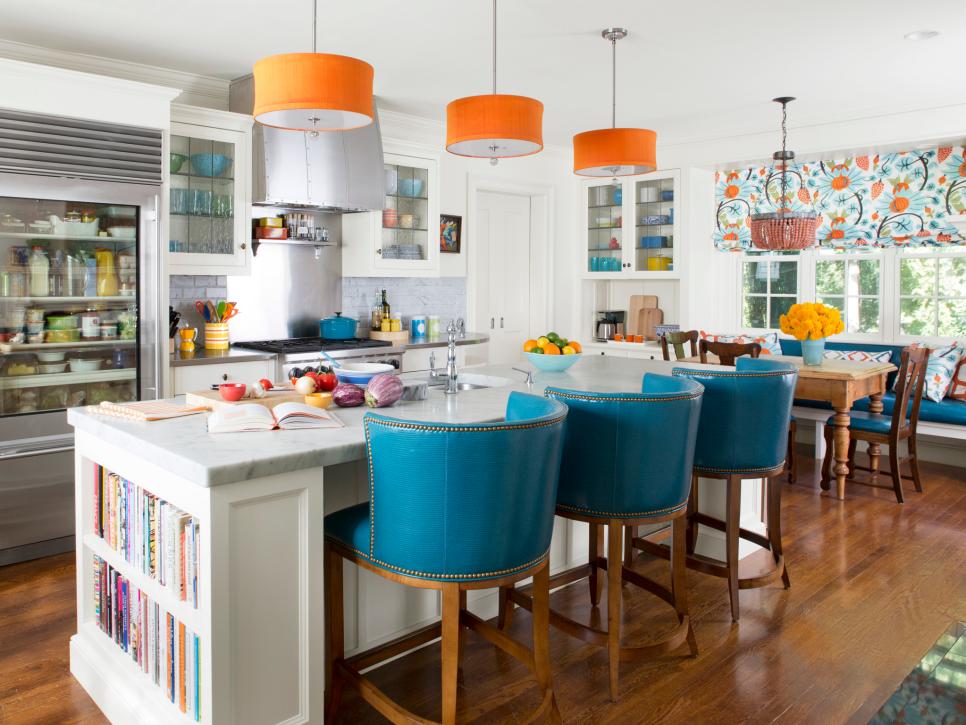 4. POP!! of colour
'Vibrant colour schemes will continue to be popular for 2018 with a focus on both Scandinavian application – pops of bright colour – or complete maximalism –with colour clashes,' says Matt Prall and Stephen Garland of Papilio. 'The use of colour in the kitchen is extremely important and should reflect homeowners' personalities and their needs. For instance, a space for cooking should be light and bright while spaces designed for entertaining could have a darker essence to provide a suitable ambience.'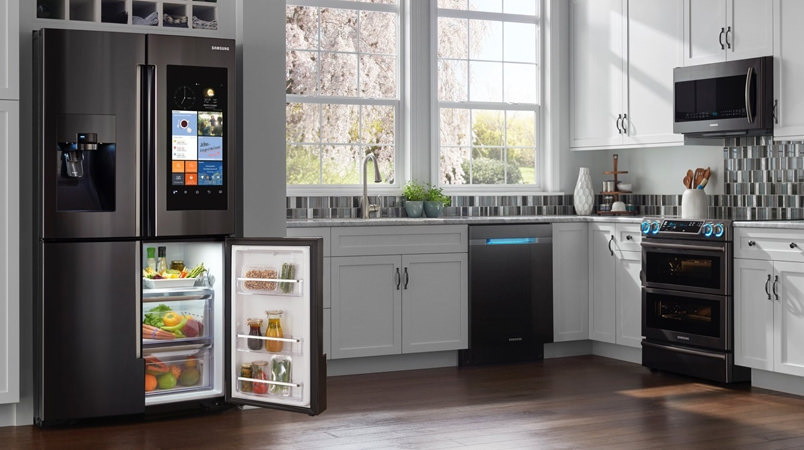 5. Smartypants kitchens
'Smart appliances are developing at a rapid pace and anyone considering installing a new kitchen in 2018 should really not do without a boiling water tap – seen as a necessity in today's living; wifi ready appliances – allowing us to control our kitchens from afar; and steam ovens and vacuum drawers – this makes cooking quicker, easier and contains the flavour in the food,' say Kitchens International.
Meanwhile, Papilio note an interest in 'integrated music and lighting that can all be controlled via one central hub, as well as a call for iPads installed for recipes and work surfaces with integrated mobile phone charging'.
In particular, the Amazon Dash button and Google Home have become 'essentials' in the kitchen, enabling homeowners to order products, play music, set reminders or find out recipes at the touch of a button or the sound of a voice.
A must have is the Zip Tap – now the world's most advanced drinking water appliance. 'The Zip HydroTap transforms ordinary water into a form of the clients choice, all via one tap,' says Papilio. 'This essential and smart addition to any kitchen provides pure tasting boiling, chilled and sparkling water at the push of a button.'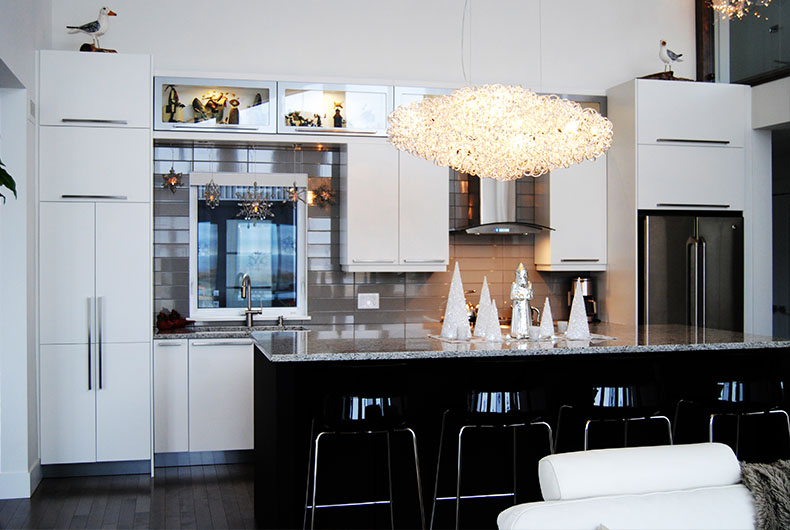 6. Statement shelving
Open shelving is becoming increasingly popular with homeowners able to make a statement in their kitchen by adding their own personality with small accessories and even deluxe food items placed on shelves. 'It's the perfect chance to add lots of greenery in a physical format with bright, airy kitchens providing the perfect setting for succulents and hanging Ivy, incorporating yet another important interior style trend,' says Papilio.
The team at Kitchens International say floor to ceiling units with no plinths or space above the unit is a key design trend that will provide maximum storage in smaller areas. They add: 'Open shelving with internal lighting produces a more living room feel and look to the kitchen and is becoming increasingly popular on islands.'
But hidden storage will be 'more important than ever for hiding older cookware that you don't want on display, ambient food and other bits and bobs that find their way into the kitchen,' says Trainor from LochAnna Kitchens. 'Internal drawers, pull out storage systems and tall larder storage will also be making their way into kitchens.'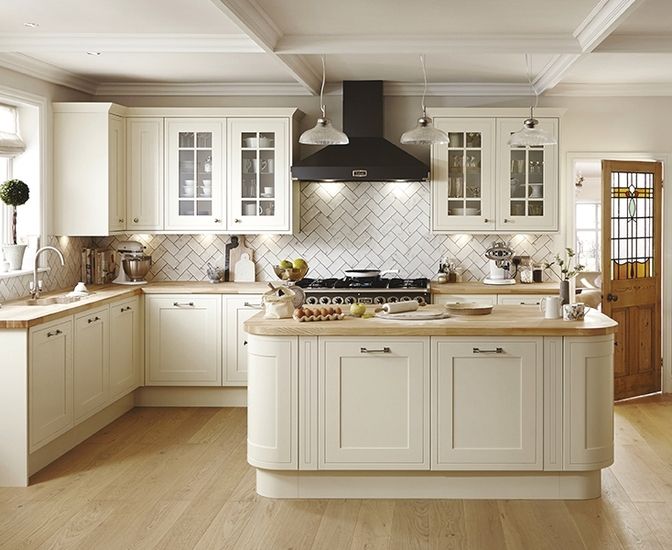 7. Shaker style retains popularity
The shaker door is still a popular choice with kitchen buyers. 'In recent years we have experienced a 16 per cent increase in shaker style doors sales,' says Kieran McCracken from kitchen door manufacturer BA Components. 'Shaker offers distinctive yet practical styling as many consumers opt for a traditional design with unicolour matte finishes being very popular.'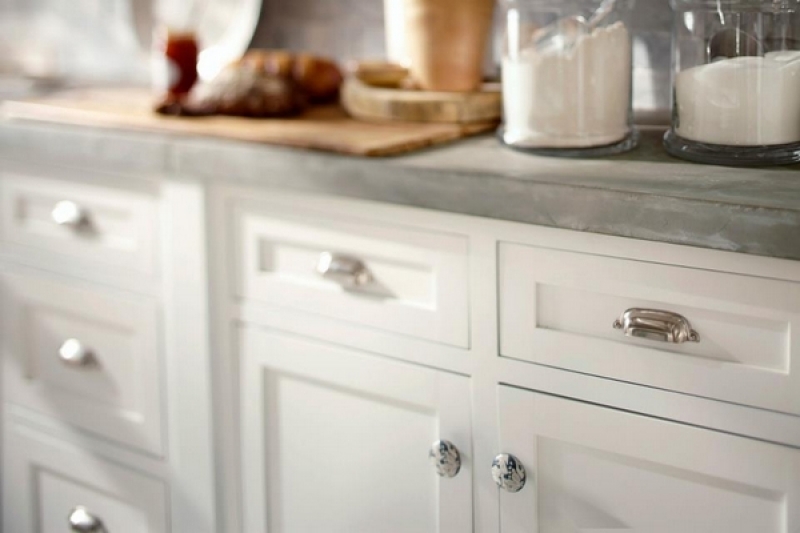 8. Handles are back

The overall linear look with handleless doors proved very popular in 2017's kitchen, but according to LochAnna Kitchens, 'handles are coming back'.
'Think beautiful, ornate handles against modern cupboards and bright coppers/rose golds on shaker style kitchens,' explains Trainor. 'There is also a growing trend towards matching accessories and appliances to the rose golds and copper accents found in handles as more homeowners try to find alternatives to everyday stainless steel and black.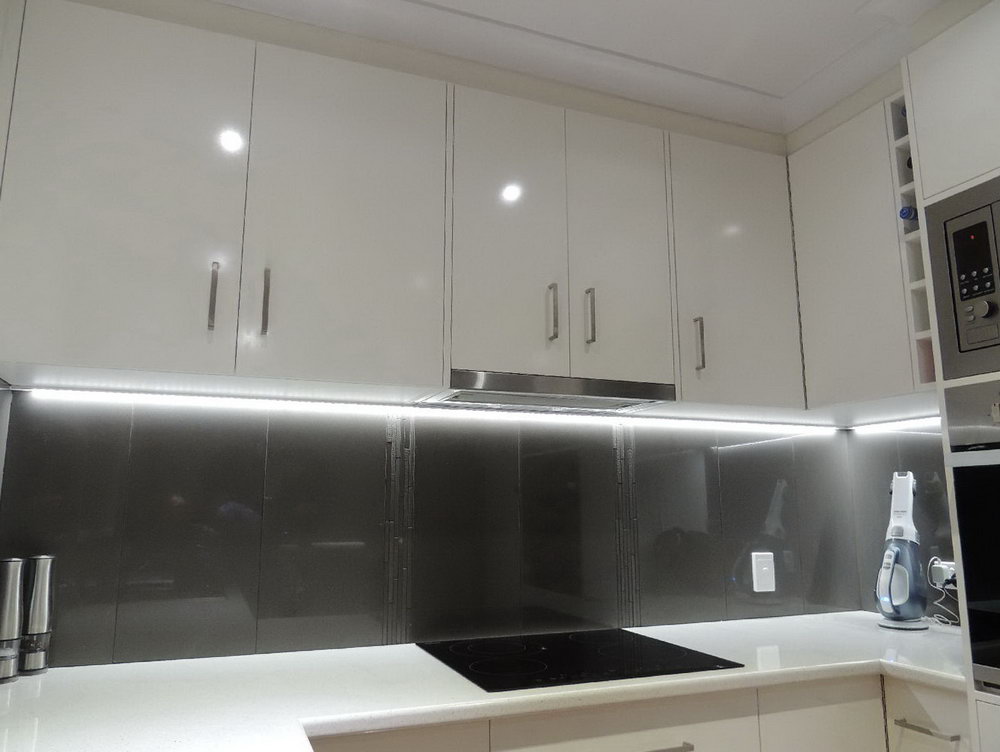 9. Concealed and disguised lighting
Layers of lighting is key to any good design. The traditional line of three pendant lights continues to be popular and always looks stunning in a rectangular kitchen or hung over an island. 'Pendants can work really well as task lighting,' says Simon Wallis-Smith, director of lighting specialists Fritz Fryer. 'We recommend that you complement them with LED strips on the underside of eye level cupboards, illuminating the work surface. Depending on the size of the kitchen, you can also supplement this scheme with some carefully positioned recessed down lights.'
Lighting under cabinetry and counters is an easy way to change the atmosphere of a room, something which Papilio has seen a lot of their clients requesting. 'Concealed LEDs can be placed under the worktops to transform a kitchen into an entertaining space… it's an easy way to illuminate a room and add a little bit of contrast to the existing lighting features,' they say.
Angus Mackintosh, senior sales designer from Kitchens International, adds: 'Disguised light channels built into the plasterboard are very on trend in modern architecture buildings and I expect this to merge over to the kitchen world and become more common place in most designs.'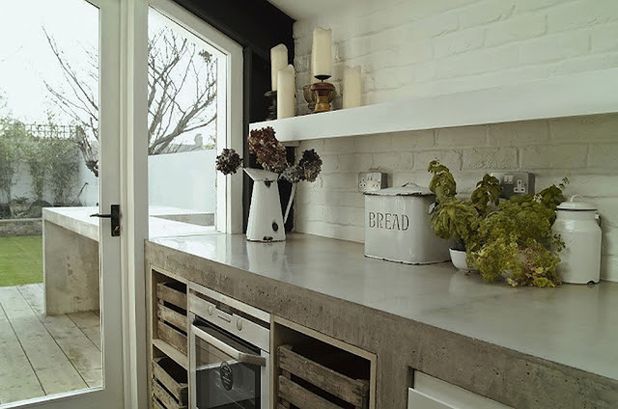 10.The industrial look develops with heavy metal and concrete effects
Look out for industrial style features such as concrete effect finishes – Kitchens International says the trend for concrete-sprayed doors or concrete effect doors will continue to grow – as well as black grip ledge handles and open style metal frame racks for storage and eye-catching features.
'An ongoing shift towards individuality in today's kitchen design, the latest fronts, finishes and solutions become instrumental in creating definition and individuality,' says Schüller. 'With heavy metal, even storage is coming out of the cupboard and when features unite with function, you create kitchens with purpose.'