Say it with me now – Renovations. The mere idea strikes fear into some homeowners. I know the actual work itself can be daunting, but the planning is exciting – think of all those possibilities!
Let's break down some of the looks you can go for: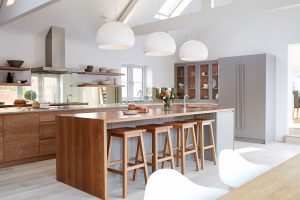 CONTEMPORARY – is where function meets family. This motif is carefully crafted, a mix of old and new, casual yet polished. This room must reflect the changing times, since cooking with company has replaced cooking for them; plenty of space for hosts and guests to mingle as they work. Add in top-notch cooking equipment, comfy, durable seating in an open concept room and you have designed a kitchen perfect for 21st century living.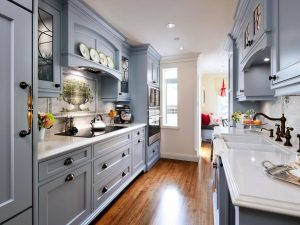 COTTAGE CHARM – Whether the space is open or tiny, cottages kitchens are designed to feel safe and cozy; what a hug would be like if you lived in it. With homemade touches and quaint imperfections, cottage kitchens are always unique and serve as the ideal canvas for bohemian art or vintage collectibles, usually both. A true haven, where the flea-market aficionado can showcase their treasures. To link a passion for cooking with an intriguing style, look for antique-looking appliances in white or retro colouring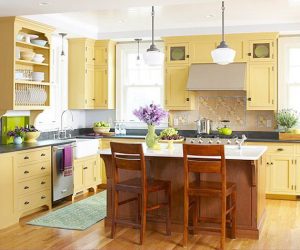 COUNTRY – Brightly-coloured, open-concept, warm and inviting; a country kitchen allow for a staycation feel even in the heart of the city. Rural-style cabinetry and furniture are trendy and a kaleidoscope of colour– primary blues, yellows and reds plus low tones like cream or any accents you favour– help to create a truly lived-in look. Mixing over matching seems the proper choice.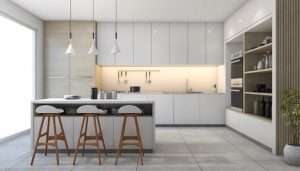 MINIMAL – We have heard the phrase 'less is more', and it's hard not to notice the trend that's on the rise. Focusing on improving one's lifestyle through simplification, minimalism is in kitchen as in life- simple, visually appealing, easier to use- but by no means boring. Return all items to their place when not in use, empty counter space, steel accents on faucets and cabinet/drawer knobs, muted colouring and in the spirit of de-cluttering, get rid of all your extras- widowed container lids, bent forks and spoons, duplicate knives and utensils- why have four of the same thing? We all know you have a favourite, so just use that one!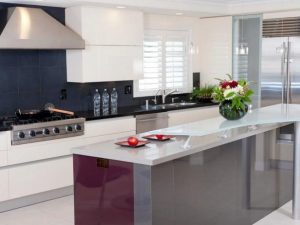 MODERN – Sleek and sophisticated, the modern kitchen makes for minimal clutter. Reflective surfaces & high-tech components are integral to this style and polished wooden accents add the appearance of luxury without the use of frills or fabric.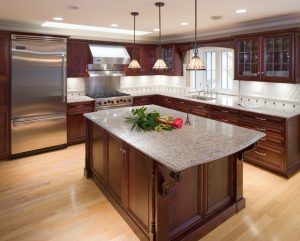 TRADITIONAL – This type of kitchen demands Turkey on Thanksgiving, Christmas dinners and home-baked chocolate chip cookies ready for after school. Its very design centres on family life, holiday plans and time with friends although the clean, comfy, lived-in look is appealing year after year. A timeless look is ideal and can be achieved using dark wood and glass doors on cupboards.
Happy decorating!